Leonardo Bonetti from Center for Music in the Brain has been awarded the Marco Capogna Young Neuroscientist Prize
At Neuroscience Day 2023 at Aarhus University, Leonado was awarded the prize for "his excellent research, outstanding breath of academic activities and high productivity".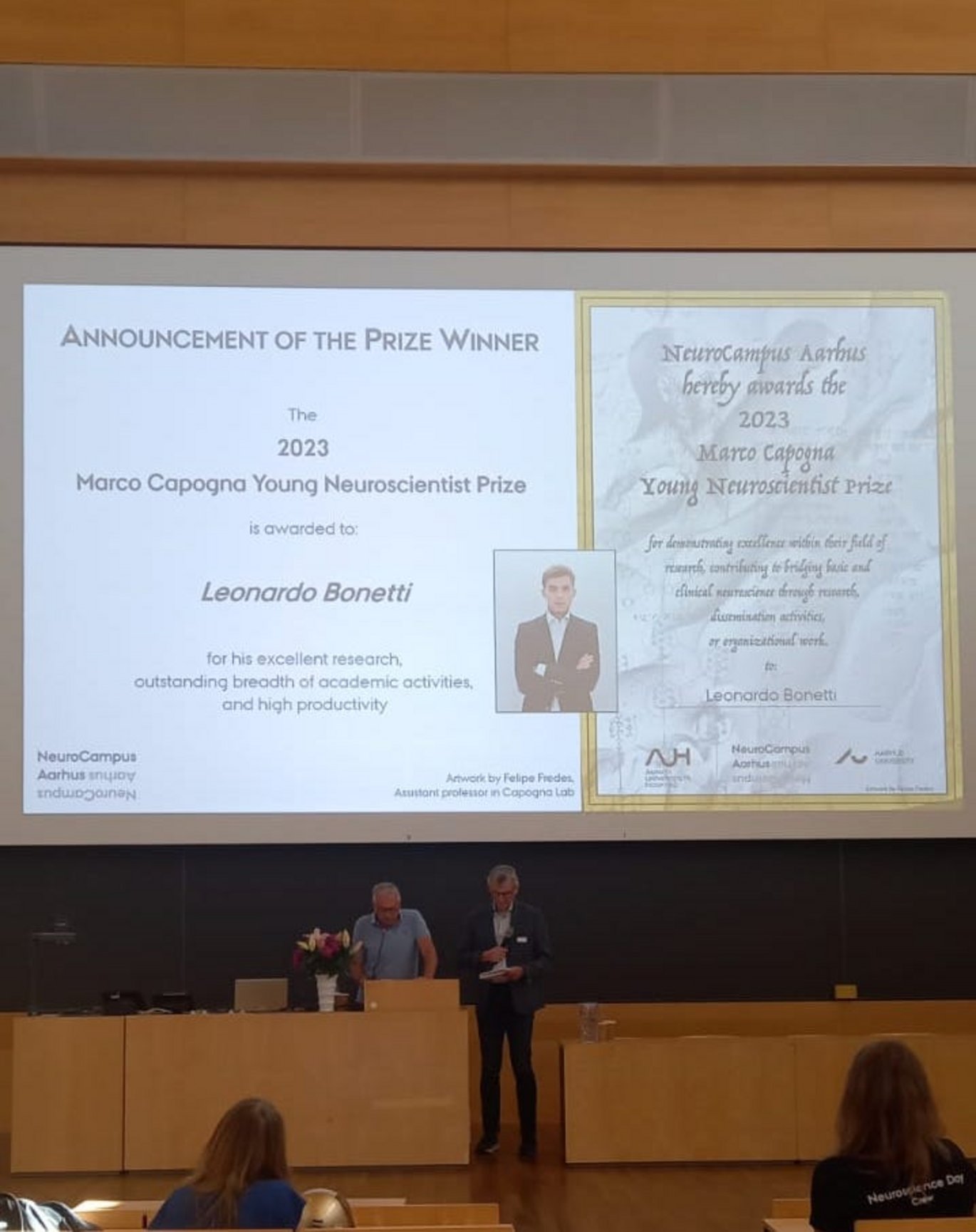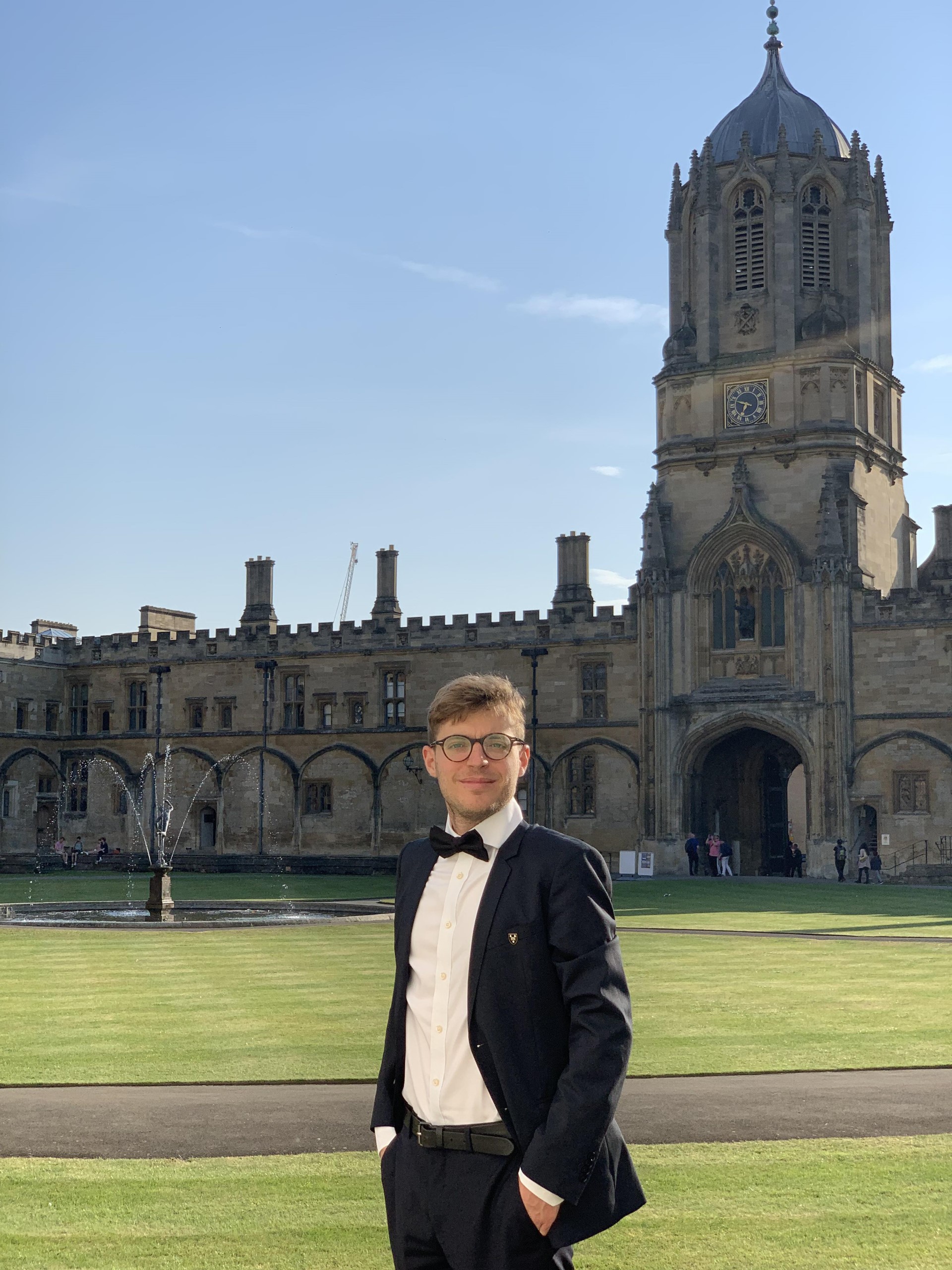 Leonardo Bonetti, Associate Professor at the Center for Music in the Brain (MIB), Aarhus University, has been awarded the esteemed Marco Capogna Young Neuroscientist Prize for "his excellent research, outstanding breath of academic activities and high productivity". The prize, consisting of DKK 7500, was presented to Leonardo during the annual Neuroscience Day, held in Aarhus on the 13th of June 2023.
The prize has been awarded to Leonardo Bonetti with the following motivation:
"Leonardo is a cognitive neuroscientist with an impressive multidisciplinary background, holding two master's degree in psychology and classical guitar as well as a PhD in cognitive neuroscience focused on computational analysis and neuroimaging methods. He has successfully integrated these disciplines, using music as a privileged tool to gain insights into the human brain and its clinical applications. His use of music to unravel the brain dynamics of memory honors Marco's expertise in hippocampal circuits and passion for the classical guitar, making Leonardo the obvious recipient of this year's Marco Capogna Young Neuroscientist Prize."
Expressing his gratitude for receiving the prize, Leonardo said, "I am deeply honored to receive this prize, and I would like to express my gratitude to the Neurocampus Board, the Faculty of Health at Aarhus University, and all my colleagues at the Center for Music in the Brain. This prize holds great significance for me because I personally knew Marco. Over the years, we engaged in a few conversations about neuroscience, during which he provided me with enlightening advice on investigating memory in the brain, particularly focusing on neural rhythms and the role of the hippocampus. Marco was not only a dedicated scientist but also a passionate classical guitarist. On a few occasions, he sought my advice on playing the guitar, and we even had the opportunity to play together a couple of times. In return, he invited me to visit his laboratory and introduced me to the fascinating research he was conducting with his students. Moving forward, I aspire to emulate Marco's exemplary guidance and keep his memory alive. Besides his brilliance as a scientist, Marco was known for his kindness, respect, and generosity towards young researchers and students. Throughout my career, I will do my best to follow his example".
The Marco Capogna Young Neuroscientist Prize was established in memory of Professor Marco Capogna (1958-2022), who joined Aarhus University's Department of Biomedicine as a professor in 2016. Marco dedicated his research to understanding the circuitry underlying emotionally dependent behaviors, with a specific focus on GABAergic neurons in the hippocampus and amygdala. His work involved collaborations with prominent European neuroscience centers and greatly influenced the international neuroscience community. In addition to his scientific expertise, Marco was deeply committed to educating and mentoring undergraduate and graduate students in neuroscience. To honor Marco's dedication to the field and his contributions to young neuroscientists, the Neurocampus Board and the Faculty of Health have established this prestigious prize.