MEG Nord 2023
CFIN scientists have showcased their MEG research at the MEG Nord international conference, held in Helsinki on May 8-10 this year.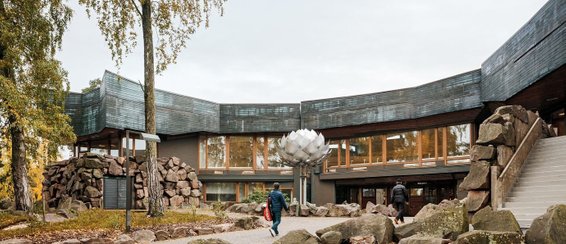 MEG Nord conference series was initiated by CFIN's very own MEG lab, with inaugural meeting held at Aarhus University in 2017. Since then, the meeting, which brings together MEG/EEG researchers from Scandinavia, Northern Europe and beyond, has been held annually, with a constantly growing attendance and widening scope.
This year, CFIN had its own dedicated symposium at the MEG Nord meeting, which is now additionally supported by the Nordic Council through its Nordforsk grant framework. The CFIN symposium showcased the breadth of our MEG research in a selection of talks by Aarhus researchers. Professor Sarang Dalal described our pioneering OPM-MEG developments, Dr Martin Dietz spoke on the use of MEG in studies of psychosis, Dr Lau Møller Andersen presented novel results on recording deep brain structures and cerebellum, whereas Dr Andreas Højlund focused on a clinically important subject of combining MEG with deep-brain stimulation in Parkinson's disease. Finally, Professor Yury Shtyrov, who also chaired the AU session, presented our new findings on spatio-temporal patterns of neural activity underpinning language processing in the ageing brain.
Read more at:
https://megnord.org/