New article in scientific journal Neuroscience
"Neurofeedback Modulation of the Sound-induced Flash Illusion Using Parietal Cortex Alpha Oscillations Reveals Dependency on Prior Multisensory Congruency" by Timo L. Kvamme et al.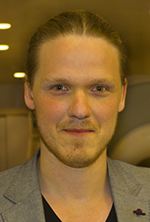 Researchers from CFIN have developed a real-time MEG analysis system at Aarhus University Hospital, Skejby which allows the participant/patient in the scanner to influence their own brain activity.

Neurofeedback was used to train parietal cortex alpha (a correlate of attention) to show that it affects multisensory perception only when observers infer that the multisensory signals originate from a common cause.
The study by Timo L. Kvamme, Mesud Sarmanlu, Christopher Bailey, and Morten Overgaard has just been published in Neuroscience and is available online at:
https://www.sciencedirect.com/science/article/pii/S0306452221005881?via%3Dihub
---
Contact
For further information, please contact:
Timo Lehmann Kvamme
timo@cfin.au.dk
https://pure.au.dk/portal/da/timo@cfin.au.dk